12 Week Male Fat Loss Transformation
Its amazing the changes the body will make when you start eating right and working out properly.  Check out this 12 week male fat loss transformation !!
Roper reached out and said he was ready to fully commit to the Hitch Fit Online Fitness Model Program and in only 12 weeks his results were fantastic.
When you put your mind to this and make your health a top priority the results will happen!!
Congrats Roper on your new body and health.  Keep up the fantastic work!!
Starting Numbers
Weight- 205 lbs, Body Fat – 23.79%, Stomach- 38″
12 Week Results
Weight- 189.8 lbs, Body Fat- 14.64%, Stomach 34.5″
Loser Belly Fat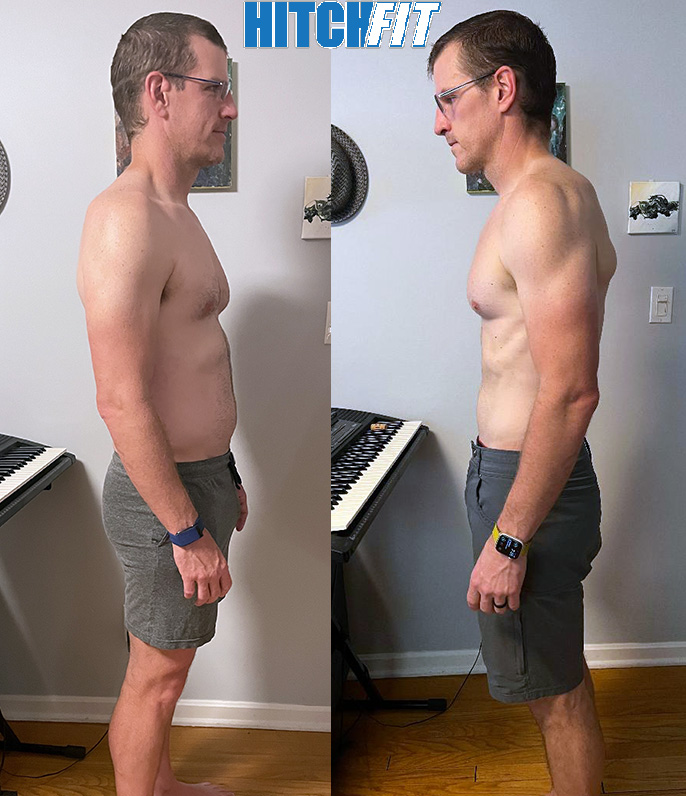 Roper's Story
In 2014, I had already run 3 marathons and had gotten hooked on the thrill of backwoods adventure racing.  As I shopped gear and paid extra for the lightweight versions of everything I needed to head out in the woods of Central Missouri, it dawned on me I was trying to find lightweight gear while still carrying unnecessary belly fat.  I turned to HitchFit with the simple goal of getting leaner, so that I could travel faster and longer on foot and bike.
With Micah's help, I cut that unnecessary weight from 220 all the way down to a low of 187.  I felt great, and had endurance for days!
Amazing Body Transformation
2020 was rough on all of us, but I turned to running as stress relief.  Turned out to be a stress transfer as I was doing too many miles for my build, and the physical therapy bills started adding up as I transferred emotional stress to repetitive motions strain injuries.  Cutting down the miles to start 2021 brought back a few lbs and I was again walking around at 208 to 205lbs.
This time, I asked Micah to design a 12 week male fat loss transformation program with only the equipment I had in my garage.  I was willing to invest in more, but aside from a $80 incline bench from Amazon, the dumbbells and bands I had on hand were more than enough to put my body through the rigger it needed to get back into shape.
Twelve weeks later, I'm injury-free and I feel like a lean mean endurance machine again!
Program Choice: Fitness Model