Amazing results from our 12 Week Challenge!
At The Healthy Mummy we are all about empowering mums to achieve their personal health and weight loss goals with our 5 Star rated app along with the motivation and inspiration of the 100,000's of real mums in our online community.
We strive to offer all mums the tools you need to take part and succeed in our Challenges with 6000+ budget friendly, family recipes, 600+ workouts for all ages and levels of fitness, mental health support all at your finger tips in the intuitive and user friendly Healthy Mummy app.
As a busy mum it's not always easy or even possible to focus on your needs as you juggle the need of your family, but these mums made sure they took the time for themselves and achieved great results.  Discover their simple tricks and tips that helped them reach their weight loss goals following 12 Week Challenge
If you are INSPIRED by them – then join us on our next 12 Week Challenge that starts SOON!! Join here.
Check out the top tips from these mums who hit their goals on the 12 Week Challenge
Shae Smart lost 14kg on her first 12 Week Challenge!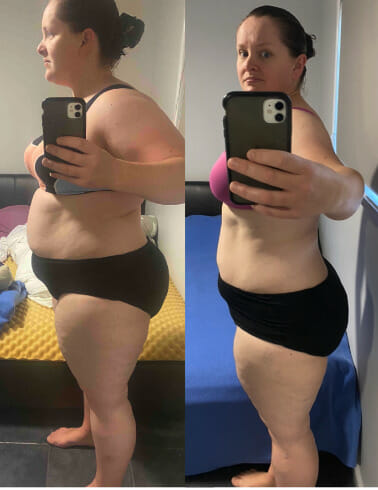 Shae lost 14.5kg with the 12 Week Challenge with the help of The Healthy Mummy app everyday to record my food and exercise.  Shae said, "I love planning out my week and meal prepping every Sunday from the app as I love being so organised during the week." 
I log my measurements and weight loss as well as photos in the app. I have also attached the original photos I took of my progress before and after the challenge.
"The Healthy mummy has been the best thing for me, it's really helped me turn my life around and in good health to start my family."
Shae's top tips:
Keep going with the challenges (as Shae has now lost 25kg!)
Stay accountable (the online community helps)
Use the app religiously
Go Shae!
Amy Melillo lost 20kg with the 12 Week Challenges
Amy has turned her life around using the 12 Week Challenges and has lost 20kg in the process.  She continues to take on our challenges to maintain but also to challenge herself to stay on track, and it's obviously working.
Amy is very active in The Healthy Mummy online community where she shares her journey to motivate and inspire others, "it's not always easy to stay on track, but the community really does support and care for each other whatever stage you are at or whatever questions and issues you might have, it's amazing!"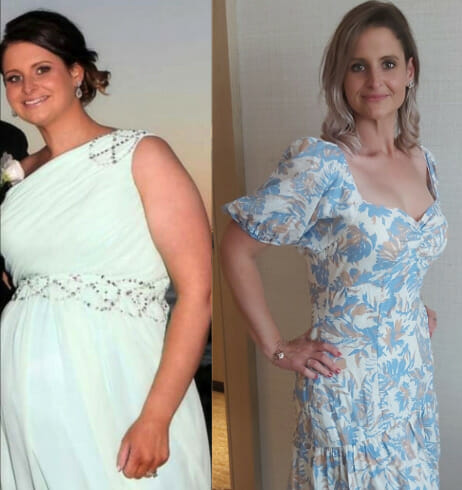 Amy's top tips:
Appreciate a NSV (non scale victory) as it's not just the number on the scales, it's important to recognise how good you feel
Establish a routine for your cooking and exercise
Join the online FB community as the other mums are so kind and supportive (and have great advice)
Go Amy, you are smashing your goals!
Tarry Terry lost 10kg on her first 12 Week Challenge
Tara's story is similar to so many mums, "I realised that I needed to make changes and look after myself.  I started doing the 12 Week Challenges this year and I'm really happy with my results so far!"  
This mum of 4 boys from Brisbane has had a great result with losing 10kg in 12 weeks but also recognises her NSV's, like having to buy jeans that are two sizes smaller!!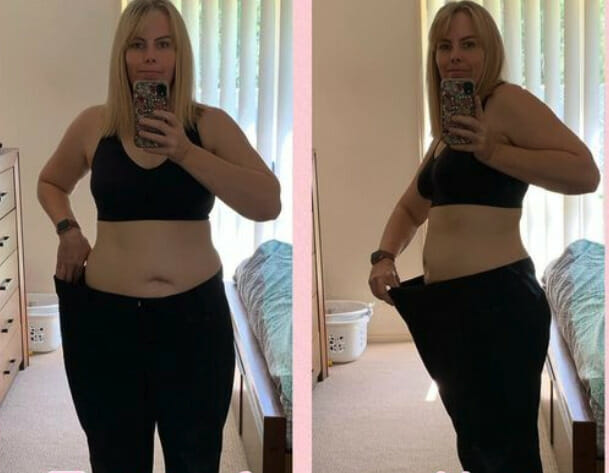 Tara's top tips:
Have a smoothie everyday for breakfast – so quick, easy and delicious
Go for it – Sweat and everything, no embarrassment or shame
Remember the importance of transforming your mindset (don't only focus on the number on the scales)
Such an inspiration Tara!
Nicole Harris lost 17kg with the 12 Week Challenge
Nicole Harris is a mumof one who has been part of the The Healthy Mummy community for a few years and is back and loving the 12 Week Challenges now she has got herself into the right headspace and achieving her goals.
This 41 year old from NSW, has back surgery looming but says the operation has been a great motivator for Nicole, "I go in for back surgery in a months time thats not going to stop me from the next 12 week challenge!  It may slow me a little, but won't stop me adjusting everything to work with my recovery."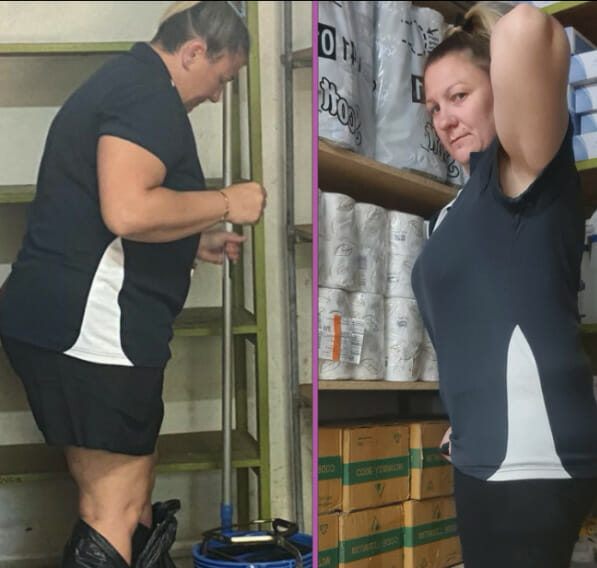 Nicole's top tips:
Walk up and down the stairs when you can (Nicole walks 515 stairs each day!)
Try to walk 25k to 30k steps a day
Portion your food
You are incredible Nicole!
Mish is a 48 year old mum of six and a grandmother to two and when this amazing mum decided it was time to make a change she fully committed and lost 7.2kg in her first 12 Week Challenge, "The 12-week challenge was the first time I have thrown myself into seriously losing weight and trying to strengthen my body."
3 Tips from Mish
Set goals 
Remind yourself that this is your personal journey and that YOU have the power to control it
Take control of your meals, snacks and water intake with The Healthy Mummy app
Go Mish!!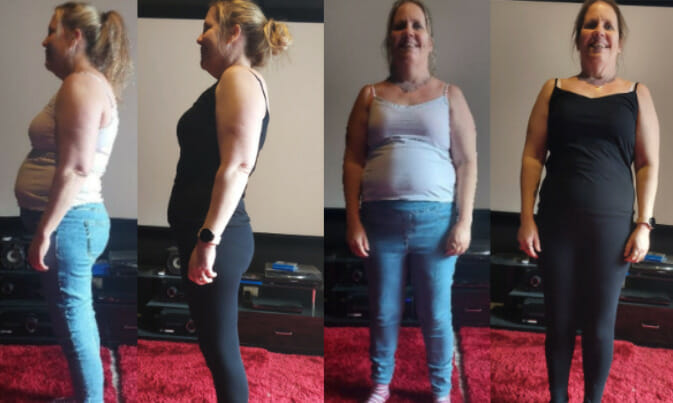 Danielle Connolly lost 14kg in the 12 Week Challenge – the pictures tell the story!!

Celeste has lost 9.1kg on the 12 Week Challenge and she is looking so ripped!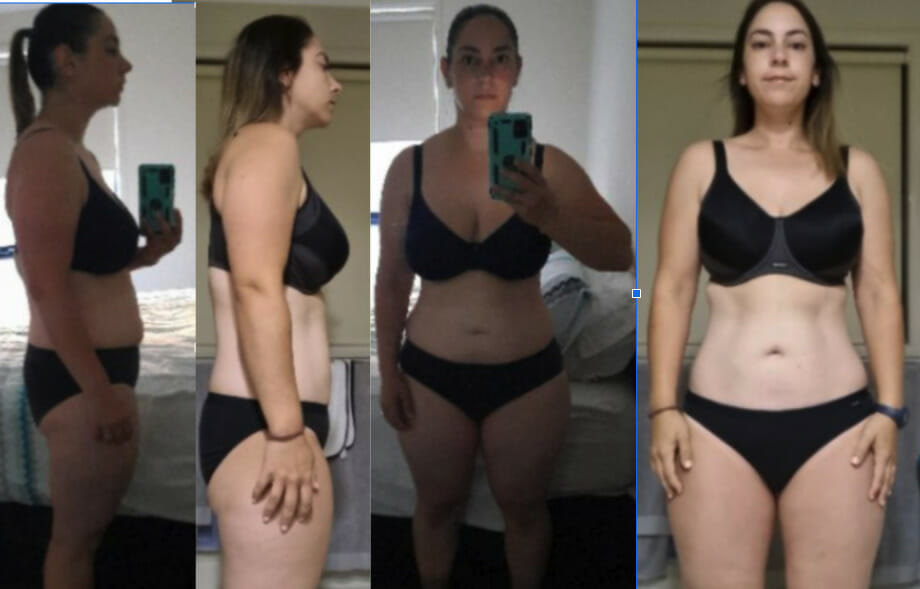 The NEXT round of the 12 Week Challenge is happening soon and you can join now!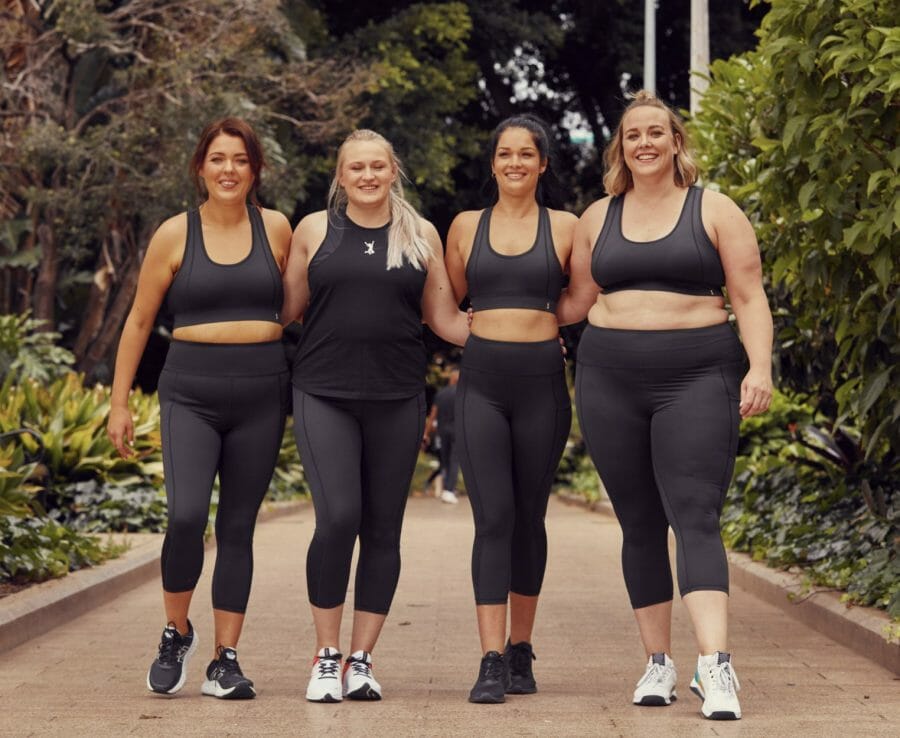 So how do I get involved?
Step 1
Firstly, JOIN HERE and get the SUPER special offer (if you are an existing Healthy Mummy member go to your My Account area for all details)
Step 2
Check your email order confirmation and claim your FREE 12 Week Challenge TOOL KIT ebook jammed with everything you need to set your goals, stay motivated and get RESULTS
Step 3
Pledge your 12 week goal HERE
Step 4
Once you have joined, log into the app where you will get UNLIMITED access to our 5 star ⭐️⭐️⭐️⭐️⭐️ rated Healthy Mummy App with over 600 at home workouts and over 6000 family friendly recipes and customisable meal plans
Step 5 
Once you join, you will be sent access to our 12 Week Challenge PRIVATE SUPPORT group where you can talk to other members on the 12 week challenge and get NON-STOP motivation and accountability to keep you on track PLUS weekly prizes.
Are you ready to become a Healthy Mummy?