Best Online Bikini Body Plan
Best Online Bikini Body Plan for women. HaRim wanted to build a strong and fit bikini body, but was confused by all the mixed information on Instagram. She signed up for the Hitch Fit Bikini Model plan and learned exactly how to achieve her goals with Coach Diana Chaloux – LaCerte. She shed over 10% body fat while building strength and getting the toned look she was hoping for.
HaRim's Bikini Body Plan Before and After Stats: 
Starting weight: 128
Ending weight: 110
Starting body fat: 27.91%
Ending body fat: 17.31%
HaRim's Bikini Body Plan Before and After Photos: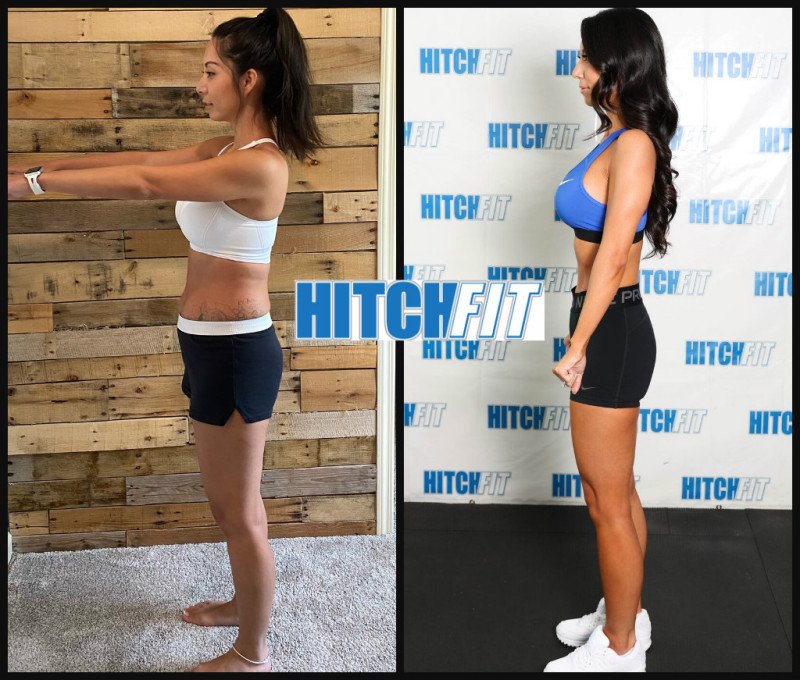 HaRim's Story and Hitch Fit Online Personal Training Review:
How to build a strong and fit bikini body
"I have never considered myself as a fit girl, I didn't really care about what I ate or did in my 20's. But was still able to maintain somewhat of a slim shape. I love Carbs! As a Korean, I was raised eating rice for breakfast, lunch, and dinner, and never understood the importance of protein intake.
In the past 3 years, I found myself spending my evenings watching TV and enjoying couple of drinks to end the day. I found myself gaining weight, feeling tired all the time, and shopping for bigger clothes.
I watched lots of videos on Instagram to educate myself, but I was getting mixed information, not making any progress, and feeling lost and confused.
My turning point was looking at picture of myself in bikinis from the summer vacation I took. I was not happy with what I was looking at. On that day, I decided that I refuse to be this version of myself where I was settling for being content. I can do better and I will be better.
I am so glad I signed up for the online Hitch fit Bikini program. I think when you are starting a journey, the hardest part is trying to figure out what you are supposed to do, but with Hitch Fit, you know exactly what you are supposed to do. Then you just need to do it!
The program equips you with everything that you need, there's a lot of information at first, but as Diana said "This is like a class, you aren't expected to know everything in the book at first, but in time, and you will learn and know the information you need for success." Plus the weekly email check in with Diana, you can count on her to email you back with the positivity and the encouragement you need to keep going regardless of anywhere she is in this World!
I was not perfect with my food plan. I had days where I couldn't resist cravings, but I had this quote on my binder that helped me. "Food is a wonderful thing, but it is not your friend. It can be enjoyed, and it is fuel for your body, you can use it to your advantage or you can choose to let it destroy your body and the potential joy that you can have out of life." It really made me think about what I choose to feed my body with.
The past 16 weeks have been busy! I couldn't have done it without the support of my husband and children. There's something really empowering about giving your all to a goal that you're committed to as Diana says. After committing to this process and making the necessary changes, I have dropped 15lb and 10% body fat. I feel so strong and confident now!  I hope to inspire others to go for the better version of yourself!"
Program Choice: Bikini Model