Christian Coast Guard members sue over religious objections to military's coronavirus vaccine mandate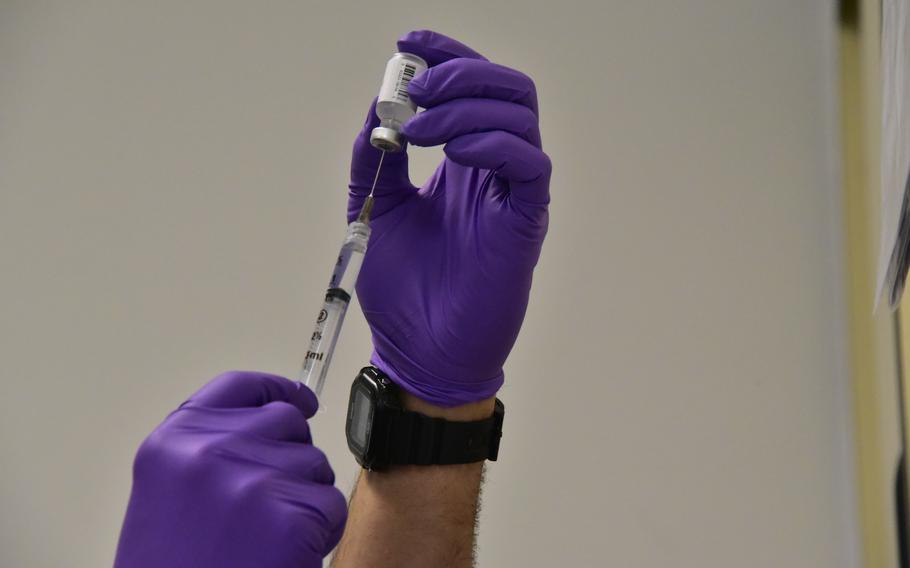 Stars and Stripes is making stories on the coronavirus pandemic available free of charge. See more stories here. Sign up for our daily coronavirus newsletter here. Please support our journalism with a subscription.
WASHINGTON — Three Christian members of the U.S. Coast Guard are suing government officials over the military's coronavirus vaccine mandate, alleging they were unlawfully denied religious exemptions from the injection.
The 70-page class action suit, filed on behalf of an estimated 1,200 service members who refused to be vaccinated for religious reasons, challenges the Coast Guard's "across-the-board" denial of exemptions and seeks to prevent the impending dismissal of the three Coast Guard members.
"These blatant violations of these Coast Guard officers' rights are over an oppressive and unconstitutional vaccination mandate," said attorney Stephen Crampton of the Thomas More Society, a conservative Roman Catholic public-interest law firm. "The Coast Guard has categorically refused to consider any religious accommodations for these American heroes, while at the same time allowing secular exemptions."
At least 881 members of the Coast Guard have been denied religious accommodation requests, according to the lawsuit. The service has approved about 1% of religious exemptions — all for members already slated for separation or retirement, and it has granted at least 53 exemptions for other reasons, the suit claims.
Lt. j.g. Alaric Stone, Petty Officer 1st Class Eric Jackson and Lt. j.g. Michael Marcenelle contend their denials violated religious freedom rights, were issued without proper authority and did not consider natural immunity developed from infection.
The three Coast Guard members refused the vaccines available to them because they were developed with aborted fetal cell lines and said they did not want to be injected with a substance with unknown long-term effects, according to the complaint. They noted they do not oppose all vaccines.
All three are now facing involuntary dismissal, which could come as soon as next month.
"I find myself in a situation where I am being forced to choose between my faith and service to my country," Stone, the top graduate from the U.S. Coast Guard Academy in 2020, said in a statement. "It's truly heartbreaking."
The lawsuit, filed last week in the U.S. District Court for the Northern District of Texas, names as defendants Homeland Security Secretary Alejandro Mayorkas; Defense Secretary Lloyd Austin; Adm. Linda Fagan, commandant of the Coast Guard; and Brian Penoyer, assistant commandant for Coast Guard Human Resources.
The Coast Guard operates under the Department of Homeland Security in peacetime but can be transferred to the Defense Department in wartime. The service did not respond to a request for comment.
Crampton said the Coast Guard has threatened and punished service members who apply for religious exemptions, denying them schooling, promotions and assignments. Marcenelle was denied leave to run in the Coast Guard Marathon in March due to his vaccination status, but the plaintiffs have continued performing their duties with no restrictions since receiving final denials four months ago, according to the lawsuit.
The denials were nearly identical and appeared to contradict the Coast Guard's vow to personally review and extensively consider appeals filed by service members, according to the lawsuit. The Defense Department's inspector general raised concerns in June over the speed of the review process, warning service authorities across the military were issuing blanket denials without considering each case individually.
Stone claims his commanding officer told him and other unvaccinated crew mates last year that "I don't want to discuss your religious beliefs because frankly, they don't matter to me."
The lawsuit alleges the Coast Guard's religious accommodation process was a "ruse" because the service's chaplains had been instructed to challenge religious objectors while those assessing medical or other secular requests were given no such instructions.
Stone claims his commanding officer told him in July that the Coast Guard was shifting from a policy of losing unvaccinated members through retirements and other natural attrition to a "more proactive stance."
The Coast Guard that month stated it would begin involuntary separations for unvaccinated members because they were not "worldwide deployable," according to the lawsuit.
Jackson said the move is forcing him into early retirement after nearly 20 years of service.
"These exemplary Coast Guard officers and are being rewarded for their documented stellar service by dismissal," Crampton said. "This lawsuit seeks to stop the government's religious discrimination against these, and all members of the Coast Guard, and to prevent their discharge from the military, which has been initiated solely because they are as loyal to their faith as they have been to this nation."
Dozens of lawsuits have been filed over the military's vaccine mandate since it was enacted in August 2021. A federal appellate judge earlier this month allowed a class-action lawsuit against the Air Force to move forward, suggesting the service would be better off with a mandate that members could opt into instead.