Cocoona Teams Up with Thumbay Medicity to Elevate Healthcare Standards in Ajman
Ajman: In a significant move towards enhancing healthcare provisions, Cocoona, a distinguished clinic specializing in a wide array of medical services, including plastic surgery, dermatology, dentistry, orthopedics, weight management, and wellness solutions, has entered into a strategic partnership with Thumbay Medicity in Al Jurf, Ajman. The Memorandum of Understanding (MOU) formalizing this collaboration was jointly signed by Dr. Sanjay Parashar, Founder of Cocoona, and Mr. Akbar Moideen, Vice President of Healthcare Division at Thumbay Group.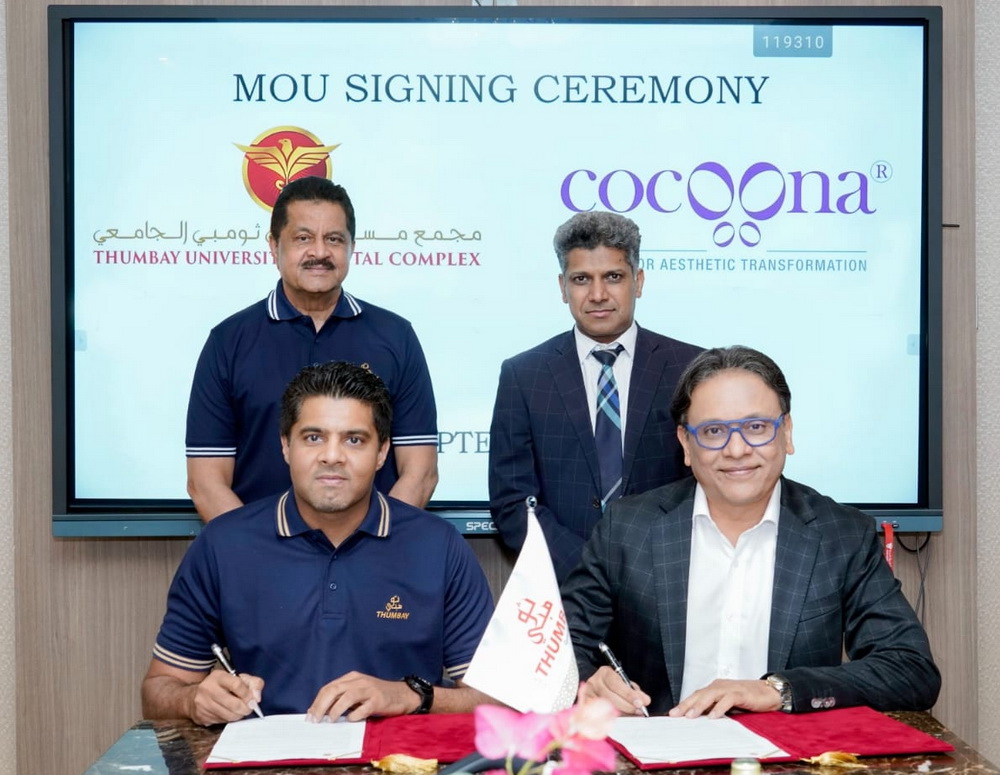 This partnership aims to leverage Cocoona's expertise in various medical disciplines along with Thumbay Medicity's state-of-the-art healthcare infrastructure to benefit residents of the Northern Emirates. The mutual benefits are substantial: Cocoona's global recognition and participation in Dubai Health Authority's Medical Tourism initiatives are set to draw a more diverse clientele to Thumbay Medicity. Simultaneously, Thumbay Medicity's world-class amenities will further enhance Cocoona's capacity to deliver top-tier care. Together, they aspire to establish a healthcare destination that provides the highest quality services within a secure environment, ultimately benefiting patients and healthcare seekers in the region and beyond.
Thumbay Medicity stands as a multifaceted center for medical education, healthcare, and research. It encompasses a diverse range of facilities including Gulf Medical University, Thumbay Labs, Thumbay Pharmacy, Blends & Brews Coffee Shoppe, Body & Soul Health Club and Spa, Thumbay Food Court, Thumbay Housing Project, a theater, Center for Advanced Simulation in Healthcare (CASH), Thumbay Research Institute for Precision Medicine (TRIPM), Central Library, Research Center, Free Parking, and more.
Notably, it houses Thumbay Dental Hospital, Thumbay Physical Therapy and Rehabilitation Hospital, and a 350-bed academic hospital, Thumbay University Hospital. These specialized hospitals are integral components of the Gulf Medical University Academic Health System (GMUAHS).
Since its establishment, Cocoona has successfully attended to over 50,000 patients and performed more than 85,000 procedures, firmly establishing its reputation for excellence and trustworthiness. With a team of over 60 highly skilled professionals spanning 12 specialized departments, including doctors, therapists, nurses, patient counselors, technicians, front desk, and customer service staff, Cocoona remains steadfast in ensuring a world-class experience in both pre and post-operative care.