Cost Plus Drugs: What You Need To Know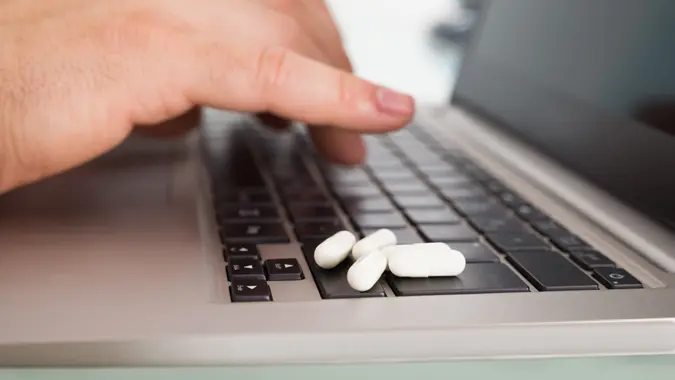 Andrey_Popov / Shutterstock.com
According to projections from the Centers for Medicare & Medicaid Services, annual spending on retail prescription drugs is expected to increase by about 5%, on average, through 2030. Even after rebates, U.S. drugs are almost twice as expensive as those in similar countries, as noted by a report from the Assistant Secretary for Planning and Evaluation. But despite these challenges, some industry disrupters are helping consumers pay less for prescription drugs, regardless of insurance status.
See: If Your Credit Score Is Under 740, Make These 4 Moves Now
One example is Cost Plus Drugs, a pharmaceutical company funded by the investor and billionaire Mark Cuban. Cost Plus Drugs is increasing accessibility to hundreds of generic drugs nationwide.
About Cost Plus Drugs
The Mark Cuban Cost Plus Drug Company, or Cost Plus Drugs, is an online company that sells generic prescription medicines at low, transparent costs. The company is one of Cuban's most recent investment ventures, currently headed by Alexander Oshmyansky, founder and CEO.
Since its launch in January 2022, the company's growing inventory is bridging accessibility gaps by facilitating pathways to safe, affordable medication. Part of the reason for its establishment is to reduce the impact of price-gouging and drug shortages that adversely impact consumers.
Cost Plus Drugs works with Truepill, a fulfillment partner that fills prescriptions through accredited pharmacies. The company is also building a facility to manufacture drugs in Dallas.
Medication options at Cost Plus Drugs grew from 100 in early 2022 to over 800 by the end of the year. While the company doesn't offer all options, it continually updates its inventory. Oshmyansky also mentioned the possible introduction of specialty offerings and brands in the future, according to Forbes Advisor.
Does Cost Plus Drugs Accept Insurance?
Cost Plus Drugs generally doesn't accept insurance. The only exception listed on its site is Rightway prescription insurance. But Cost Plus Drugs claims that buying from the company is cheaper than getting the drug at the average pharmacy, even for insured consumers.
Cost Plus Drugs works with specified groups that could allow you to submit claims to your pharmacy insurance plan. While not guaranteed, the claim may apply to clinical profiles, personal deductibles or out-of-pocket maximums.
Do You Need a Prescription To Purchase Medication From Cost Plus Drugs?
Yes, a legitimate prescription from your doctor is necessary to purchase medicine from Cost Plus Drugs. After you create an account, your doctor sends your prescription directly to the company.
The prescriptions must clearly state your name, email address, birth date and required medications. Cost Plus Drugs matches the prescription and sends patients an email prompting them to log in to their accounts and order their medications.  
Why Are Drugs From Cost Plus Drugs So Cheap?
Cost Plus Drugs slashes the price of medication by eliminating factors that, in contrast to other companies, lead to high prices. Some of the measures it has taken include:
Building a manufacturing plant
Implementing a fixed 15% markup and forgoing bloated markups
Eliminating the pharmacy middleman by directly negotiating with manufacturers
Before making a purchase, you can see the medication's manufacturing costs, the price after markup, the pharmacy labor fee and the shipping fee. The company ships medicines at a standard shipping rate but offers expedited options at higher prices.
Although the prices are lower than other companies, the amount saved depends on factors unique to each consumer. Some medication savings seem almost too good to be true.
Here are a few examples from Cost Plus Drugs' website:
Abacavir: This is the generic drug for Epzicom, used with other HIV medications to control infection. A supply of tablets retails at $1,096.10 but costs $57.60 at Cost Plus Drugs. You save $1,038.50.
Dalfampridine ER: This generic drug for Ampyra helps improve walking in adults with multiple sclerosis. The retail price is $1,394.30, but at Cost Plus Drugs, it costs $11.40. You save $1,382.90.
Valganciclovir: This is the generic for Valcyte. The drug treats cytomegalovirus retinitis in people with AIDS. It retails for $1,750.43, but you save $1,650.23 by purchasing a supply of tablets from Cost Plus Drugs for $100.20.
Dimethyl Fumarate: The generic drug for Tecfidera, used for treating active relapsing multiple sclerosis, retails at $2,176.06. A bottle of capsules costs $15.08 through Cost Plus Drugs. That is $2,160.98 saved.
Although not all savings average in the thousands or even hundreds, getting prescription medication for cheaper makes a difference in expenses in the long run.
What Are Some Limitations of Cost Plus Drugs?
Although Cost Plus Drugs can potentially save consumers money, it has a few downsides. One example is the limitation on temperature-sensitive medications. If you need insulin or ADHD medication, you're out of luck since the company relies on ground carriers, as noted by ScriptDrop.
Shipping isn't free, which adds to the inconvenience of waiting longer than you usually would with other companies. The standard shipping rate is $5, while expedited shipping sets you back $15 in the continental U.S. or $25 in Alaska or Hawaii.
The most glaring limitations, such as the limited number of medications, are partly due to the shipping issue. Since the company delivers your package through standard ground shipping, you won't get your medication quickly unless you pay for expedited shipping.
How Does Cost Plus Drugs Work?
If you want to learn more about the company and start using the platform, here is what you need to do:
Check for medication: Look at the list of medications on the website to determine if it has the one you need.
Create an account: The website notes that it takes about five minutes to set up an account.
Alert your doctor: Contact your doctor to let them order your prescriptions through the website. They can go directly through the site or fax or call in your prescription.
Wait for a notification: You'll receive a notification via email after your prescription has been matched to your account.
Place an order: Use the online portal to order your drugs and check out.
Saving Money on Prescription Drugs
If you can find your medication on Cost Plus Drugs, you can save money on prescriptions even if you don't have insurance. The user-friendly platform is easy to use, and the transparent pricing is visible and straightforward.
Nowadays, more people are acknowledging the importance of lowering pharmaceutical drug costs. President Biden's recent executive order on lowering prescription drug costs is just one example of their impact. And while not revolutionary, companies like Cost Plus Drugs are still doing their part to confront an industry known for over-the-top drug prices.
Before taking the plunge, do your research and talk to a pharmacist to determine if you are getting the best deals on medications. Overall, prices will vary based on numerous factors, like whether you use coupons or if bulk purchasing options are available.
Information is accurate as of Nov. 21, 2022.
Editorial Note: This content is not provided by any entity covered in this article. Any opinions, analyses, reviews, ratings or recommendations expressed in this article are those of the author alone and have not been reviewed, approved or otherwise endorsed by any entity named in this article.