Delivering 'second to none' dental care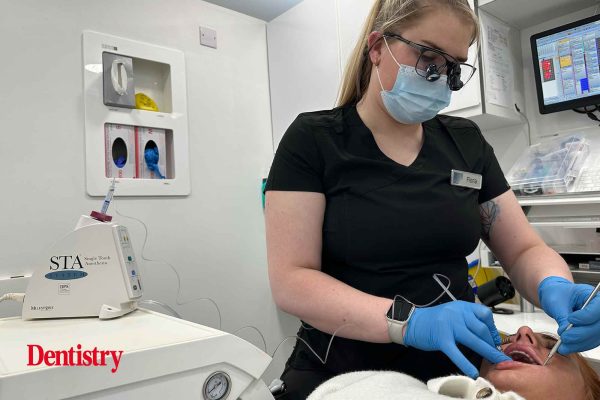 Brite Dental Group's managing director Stuart Thomson is all about developing talent for the greater good.
With a wealth of experience in the hotel and restaurant industries, he brought fresh ideas to dentistry in 2010 when he quit his job as operations manager at the seafood restaurant chain, Loch Fyne, to set up the dental business.
Jointly founded with the late Jamie Newlands, Brite Dental Group had a simple ethos – to build on the skills of people it works with to elevate the everyday experience of attending the dentist.
But tragedy struck when, seven years into the partnership, dentist Jamie sadly died.
It was a pivotal point and could have derailed plans. Instead, it further cemented Stuart's commitment to their shared vision – and Jamie's influence has not diminished over the years.
Brite Dental Group is made up of mixed practices Clarkson, Paisley, Edinburgh, Bridge of Weir & Houston and two dental labs across Scotland. It also brings the same philosophy and systems to support clinical directors Greig McLean and Mike Gow at the Berkeley Clinic, the renowned independent private practice in Glasgow.
Digitalisation of dentistry
Stuart references Jamie frequently. At the time of inception, dentistry was something of a 'cottage industry' rather than the 'well-organised, well-groomed operation' it is today, he recalls.
Jamie had an early-adopter instinct for what the digitalisation of dentistry could achieve. Stuart injected the innovative thinking learnt from the hospitality sector. Both supported a more client-centric approach to care.
The uniqueness of the partnership melded the commercial with the clinical using a strategy of a four-pillar system – the principles of which remain integral to the business today.
In essence, increased revenue requires the development of talent to improve the patient experience and, ultimately, reduce costs.
Instilled in their business from the get-go, it has allowed for considerable growth.
'Everything about Brite Dental Group stems from the question of "why",' Stuart says. '"Why should the business adopt digital technologies?", "why should we encourage practitioners to build on their skillsets?" and "why should we remain mixed practices?"'
These questions formed the foundation of the mission statement: 'Our team of excellent clinicians, technicians and clinical support staff work together with the most modern technology to deliver great dental healthcare to all in our communities so that they can live better, healthier lives.'
Best quality care
It's a mantra Stuart frequently drops into conversation.
Brite Dental practices registers all new patients on the NHS to allow conversations about health care and to give patients choices.
'Our vision was always about delivering the best quality care in the community,' he says.
'Ours are mixed practices where patients can choose their care. Our focus is on accessibility for the patient that allows them to choose between treatment via the NHS or the alternative options involved in private care.
'It is important to set your message about what you do straight away.'
So far this year, for example, Brite Dental's private 'enhanced hygiene' appointments are already up by 500 on last year.
'We have built businesses that have conversations about oral health care, which helps patients make decisions.'
Beating heart of business
With a strategy based on the four pillars, talent development became the beating heart of the business.
'There are difficult implications for the industry if it fails to invest in its talent. We are already half a million up on last year, primarily due to significant growth in skillsets,' Stuart says.
'Through investment, we have committed £30,000 to diplomas for our clinicians to date but we expect to double that this year as we complete more PDPs. As a result, we end up with better-skilled clinicians.'
Dentistry, he believes, can be a difficult industry, which doesn't always allow for this continued development. However, dental businesses cannot expect to 'dump someone in a room and leave them to find out how to deliver great care'.
'Developing talent sits at the forefront of our business. Everybody deserves good dental care. Our skilled clinicians are supported by modern technology to deliver the best dental health care.
'We looked at what we saw happening in the marketplace and realised we needed to support our clinician's technical development,' he says. 'To drive revenue, businesses must invest in their talent. The experience for the patient should be consistent, competitive and solid. Progression for people is key.'
Patient engagement
He adds: 'With eyes on the future, we also knew we had to have our own labs and invest in digital technology.'
Now, all practices are digital – the on-screen visuals help patient engagement with their healthcare.
It's a unique and slick set-up. All surgeries share set standards with treatment rooms often replicas of each other. Pre-packed kits are available in every surgery for every type of dentistry and a trolley system wheels these kits in and out of stock rooms as and when necessary – 'so everyone knows where everything is', Stuart explains.
'We offer chairside milling across the group, too. Jamie was a pioneer so we have had this for six or seven years. It's been a huge investment backed up with a fully digital lab at Berkeley.'
The impetus to reinvent, raise the bar and inspire buy-in has come from Stuart's former career experiences.
'The approach is cross-compatible,' he insists. 'In hotels, it is about how you fill a bed, in restaurants how you fill a table and in dentistry, how we fill a chair. The most expensive thing is how many "empty beds" we have. The aim is the same: to generate more revenue.
'Ultimately there is no difference between a dental chair, a hotel bed or a restaurant table. That is how we look at every room in the business. The difference is that the product is not diminishing the minute you walk through the door.'
Improve awareness
He believes excellent clinical outcomes require a dental business to pivot and use the systems available to meet patient expectations.
'The best care for the patient is nothing to do with how much money we make, but you do make good money when you make good decisions. Everything should be considered a learning pool.'
Looking ahead he wants the group to continue its learning journey – and digital communications play a part.
'We now need to improve awareness within our local communities for each practice showcasing complex treatments and best practices for oral health. We will achieve this by enhancing our SEO to focus on the communities we serve.'
Also in the pipeline is a new website that will help to improve the messaging and care options, refits at the Clarkston and Bridge of Weir & Houston practices and a plan to reduce costs with solar energy at Edinburgh.
Stuart says: 'We believe our team should be aware of the technologies and digital trends that impact dentistry and adopt the ones that are right for them. Technology, accessibility and clinical development have always worked hand in hand for our patients.'
Attract more patients
And Brite Dental is leading the way as the first dental group to take on The Wand in all of its practices.
A computerised system that gives clinicians control of anaesthetic administration should result in fewer appointment cancellations due to patient anxiety and attract more patients to the practices. It will also save chair time from the immediate onset of anaesthesia.
Like other methods it has adopted, investment in The Wand system will help Brite Dental continue its aim to differentiate within the dental sector.
Stuart says: 'The Wand has so many benefits. With children, for example, the dentist or therapist does not have to spend 15-20 minutes negotiating with a patient.
'Patients will not be alarmed to see a metal syringe with a long needle because The Wand is discreet. It's another progression for us to improve patient care and give them more choice.
'Through our friendly service, expert team of dental professionals and now with the addition of The Wand System, our practices can offer a level of care that is truly second to none.'
---
For more information visit www.dentalsky.com.