Florida Woman Seeks Jail Release On Behalf Of Illegally Detained Fetus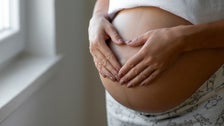 A pregnant Florida woman awaiting trial on a charge of second-degree murder is arguing her unborn fetus ― which hasn't been charged with any crime ― is being illegally detained and should be released from jail.
In an emergency petition filed last week on behalf of "UNBORN CHILD," attorney William Norris argued the Miami-Dade Department of Corrections and Rehabilitation has failed to provide adequate prenatal care for Natalia Harrell and his client, her 8-month-old fetus.
"An unborn child is a person," Norris told NBC Miami. "A person has constitutional rights and one of them is the right not to be deprived of liberty without due process of law."
"I am asserting the right of someone who is a person who has not been considered in the decision to incarcerate his mother," the lawyer added.
The corrections department has failed to provide sufficient prenatal vitamins and nutritious food, didn't take Harrell to scheduled doctor's appointments, and at one point left the pregnant woman in a 100-degree transport van without air conditioning, the petition alleged.
Norris said Harrell was last seen by an OB-GYN doctor in October. He said he filed the petition after the father contacted him with concerns about his future child's well-being.
The corrections department disputed the allegations about its care for the inmate, saying in a statement that it's "committed to ensuring all inmates receive professional, timely medical care and all appropriate treatment."
Florida Attorney General Ashley Moody argued Monday for the petition's dismissal, citing a lack of evidence that Harrell has been mistreated.
Harrell, 24, has been held without bond in the county jail system since July, when she was accused of fatally shooting fellow Uber passenger Gladys Yvette Borcela amid an argument after a night out in Miami.
She's pleaded not guilty and is scheduled for a trial in April.
"She's been accused," he continued, "but she has a stand-your-ground immunity defense that her criminal attorney is going to assert. So her conviction is by no means certain."