Liberal filmmaker Andrew Callaghan vows to join therapy, AA while addressing sexual misconduct allegations
Leftist filmmaker Andrew Callaghan posted a video apology on Instagram to hold himself "fully accountable" after multiple women accused him of sexual misconduct.
The 25-year-old filmmaker, who hosts YouTube channels "All Gas No Brakes" and "Channel 5," addressed the allegations in the nearly five-minute video on Sunday in which he pledged to be "transparent" and offered his "complete sympathy, respect, and support for anyone I've done wrong by."
Callaghan began by thanking the women who went public about the "different ways in which my behavior has made them feel uncomfortable or pressured during a sexual situation and to people who said that I've made unwanted advances."
SOCIAL MEDIA USERS' COMPETITION FOR ONLINE CLOUT IS HAVING REAL–WORLD RAMIFICATIONS
"Up until this point, I didn't really realize that I had this pattern that had affected multiple people," the filmmaker said, apologizing for his initial silence, which he attributed to "denial and shock."
"I was riding the high from my movie that just came out, and then within 48 hours, I was denounced by my closest collaborators, and my name was printed in 40 different news outlets next to the words 'sexual misconduct.' I just kind of spiraled into a mental health crisis. I'm OK now, but I don't really think this is about me. This is about the people I've affected," he continued.
"I want to be fully responsible for not having a fluid understanding of consent and what enthusiastic two-way consent looks like," he said at another point.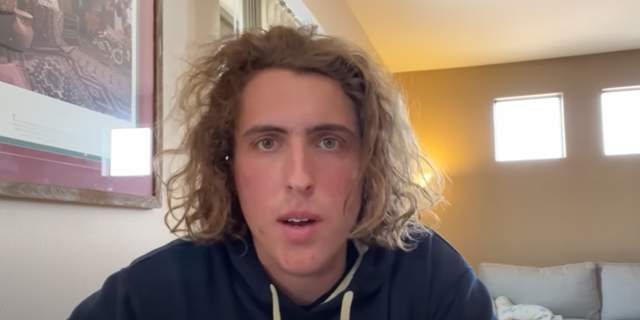 Callaghan recently released his HBO 2022 documentary "This Place Rules," which follows him as he traveled across the country conducting interviews in the months leading up to the January 6 attack Capitol attack. 
Shortly after the film hit the air, two women came forward with allegations of sexual misconduct against the indie filmmaker. Caroline Elise, who uses the TikTok handle @cornbreadasserole, reportedly accused Callaghan of pressuring her into a consensual sexual encounter in which he pushed her "to do things [she] wasn't proud of."
Elise said that the fact that she eventually gave consent "doesn't discount the fact that I told him no so many times prior. I said, 'I'm tired, I'm not really feeling it,' I came up with any excuse that I possibly could to just get him off of me, and he still found a way to coerce me into things that I didn't want to do."
Shortly thereafter, another TikToker, identified by her handle @moldyfreckle, made similar allegations in several videos posted on the platform.
"I told him to stop, I told him to get off of me multiple times," she said. "He tried to put my hand down his pants multiple times, and I was, you know, fighting against him during this."
In his apology video, Callaghan refuted the allegations, telling viewers that while he has always taken 'no' for an answer" and has "never overstepped that line," he feels this demands a "more nuanced and important" conversation about "power dynamics, pressure and coercion."
He also claimed that some of the accusations were untrue and "missing really important contextual information that I think would change people's interpretation of a lot of these situations."
INCREASED USE OF SOCIAL MEDIA TAKES MENTAL HEALTH TOLL ON TEENS
Still, Callaghan acknowledged that he adopted a "sex pest behavior" in his past, adding that the latest allegations have motivated him to do "some serious work" on himself through therapy and an Alcoholics Anonymous 12-step program.
"Also, not to blame alcohol, but I truly believe that alcohol was a contributing factor to my poor decision-making. And I think that alcohol, in general, has had a devastating impact on my life. So I think I'm going to make the decision to join the 12-step program for Alcoholics Anonymous, and during this journey into sobriety, I want to take a serious step back from public life," he said.
In a statement to Buzzfeed News last week, Callaghan's legal representative suggested that an unnamed person had potentially tried to extort him before going public with the allegations.
CLICK HERE TO GET THE FOX NEWS APP  
"While every dynamic is open to interpretation and proper communication is critical from all those involved, repeated requests for money should not be part of these conversations," the statement reportedly read.
Elise told Buzzfeed News that she asked Callaghan to consider contributing to her therapy bills, but never "threatened him with going public about this if he didn't pay me."
"I was suddenly like, 'You know what, I'm tired of being quiet about this,'" Elise reportedly told the outlet. "It was deeply painful seeing him receive so much praise."