Lizzo Says She Exercises For Something Greater Than Weight Loss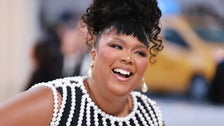 Lizzo is showing her fans some love — and sharing her journey toward body positivity.
The Grammy winner posted a TikTok video this week in response to a creator's take that "weight loss comes with the territory" of working out, but wasn't an attempt to "escape fatness." It struck a chord with Lizzo — who spoke for three minutes.
"Once I started working out for mental health, to have balanced mental health for endorphins, so that I don't look at myself in the mirror and feel ashamed of myself and feel disgusted with myself, exercise has helped me shift my mind — not my body," said Lizzo.
She said she's "started to take the physical part" of her job seriously, singing and dancing to a crowd, sometimes in tight clothing, for 90 minutes per night.
"My body is going to change, everyone's bodies change," she said. "That's life, that's what the human existence is …
"But embracing the fact that your body changes, that's a part of it. And making sure that this is what we have the power over," she continued, again pointing to her head. "Everything I eat, everything I do, every time I move my body, it's all for this. If this ain't happy, none of this is happy."