Lose 30 pounds over age 65
Lose 30 Pounds over Age 65. If you are over 60, or even 65, you might think that change isn't possible when it comes to your health, fitness and strength. That is NOT TRUE. Don't believe it! If you want an amazing example of what is truly possible, Ann's story is going to be such an inspiration for you!
At age 66, here are some of the physical challenges Ann has faced:
A Rare autoimmune condition that has impacted her vision
Right hip replacement
Left knee replacement
Herniated disc in her back
CMC joint removal surgery in BOTH hands.
We worked around and through ALL of these challenges, and Ann not only lost 30 pounds (her goal!!), she gained so much strength and confidence!!
And THANK GOD for that. Because Ann also had an incredibly scary situation happen at the end of her transformation. Had she not already become so much stronger and leaner, it is very likely she would have not survived this situation! BUT SHE HAD. AND SHE DID!!
Read the entire story, and watch the video, to hear about of Ann's scary fall into the River Thames, and how she was strong enough, mentally and physically, to survive!
Ann, SO proud of you, and the inspiration that you are!!
Ann's Lose 30 pounds over age 65 Weight Loss Stats:
Starting weight: 168.6
Ending weight: 137.8
Inches lost at waist: 6 inches lost
Inches lost at hips: 7 inches lost
Jeans size: 31/32 down to 25/26
Ann's Weight Loss over 65 Before and After Photos: 
Ann's Fit over 65 Story and Hitch Fit Online Training Review: 
Get in shape at 66
"I am 66 years old and have always been pretty active but gradually my body attempted to derail me.  My right hip was replaced in 2012 and I rehabbed it well.  Then in 2016 I started to have issues with my vision and I was losing it rapidly.  It took another 2 years to diagnose a rare autoimmune that, untreated, leads to blindness. I have spent the years since taking various very tough drugs in an attempt to get it into remission; injections of steroids directly into my eyes and now a monthly infusion too.  Then in 2021 the left knee, following years of cortisone injections and more, finally needed a full replacement.
Earlier in the same year I had the CMC joint removed from my dominant right hand as arthritis had eaten it away.  My left hand had already recovered from the same surgery a few years earlier.  Two big surgeries in one year made financial sense but physically and emotionally I felt as though I had been run over by a truck!
I recovered physically enough to decide to get a gym membership and start working out and then, three months in, I herniated a disc in my back and was literally crawling on the floor with pain!  As my Doctor said, I was getting all the 'old people problems'!  Back I went to physical therapy and began to rehab it as I was NOT prepared to have another surgery!
In October of 2022 I met with a new friend, Leslie Anderson, for HH and we chatted for hours!  I told her how miserable I was in my body and how I was not ready to be an 'old person' and she told me about Hitch Fit and her journey through the program.  I rushed home and looked online.  I did not want a fad diet, a freaky work out program or anything that I could not sustain.  I wanted a lifestyle program and my goodness, I found it in Hitch Fit!
I knew that I was not mentally ready to start and one of the things I loved was that I could purchase the program and decide when to start.  I had travel and the Holidays ahead of me so I opted to start mid January.
Diana created a program for me that was not spine loading so that my back was protected as it continued to heal, a food plan that was simple and so easy to adopt and follow and really taught me how to fuel my body correctly during the day.  I printed everything out and kept it as a reference in my kitchen, and I still do!  I transferred the workout plans to my phone and followed them 6 days a week, initially trading between a cardio day and a strength day before doing both in a day as I progressed through the program.
I have to tell you that taking my before photos was humiliating and humbling.  I did NOT want to take them so one morning I rolled out of bed, put on the shorts and sports bra I could just fit in and asked my husband to quickly take them before I chickened out! Middle age spread was REAL!!  My expression in those photos says it all!
Lose 30 pounds over age 65
I signed up for the 16 week program and my personal goal was to lose 30 lbs.
My starting weight was 168.6 and on the day of my photo shot I weighed 137.8!  The weight loss was one small part of what I gained.
I finished the program on May 2nd, the day I left for England and my eldest son's wedding ceremony.
ANN'S STRENGTH AND NEW FITNESS SAVED HER LIFE!
The trip was amazing and the final day, May 7th, was spent on my brother's boat on the river Thames just outside London.  His boat is 45 feet long and the deck is 5-6 feet above the water. It sleeps 6 and is a fabulous boat to cruise a river as large and fast flowing as the Thames.  The river was in full flood with a powerful and fast flowing stream due to recent heavy rainstorms, and still very cold!
Leaning against the back rail, chatting with my son, I suddenly found myself deep under water with the wake of the boat above me!  The rail had given way, as the wood was rotted below a heavy metal bracket.  I fell backwards into the water, fully dressed in clothes, that when wet, weighed 25lbs!
To say it was a shocking situation to find myself in was an understatement but here is what I discovered.  My body was strong and fit and although I am not a strong swimmer, I am now strong and as my mind processed the situation my body responded!  I told myself to swim up to the light and when I surfaced, choking and gasping for breath, the boat was already 30+ feet away from me!  My clothes were super heavy, the water freezing and the river flowing so fast that big boats were struggling to get to their moorings!  My family on board realizing what had happened reacted quickly.  They shouted at me to swim for the bank, my instinct was to swim to the boat, which I would never reach!  And as I made my way to the bank which seemed a mile away, two of my sons dived in to help and support me.  Together we clung to the bank until those on the boat could get a lifeline to us and haul us back in.  When we were all safely back on board everyone commented on how calm I was, they were all very anxious and distressed as they knew how it could have ended.  But my body had been tested and had survived.  I was calm and proud and supremely grateful.
I must have hit several parts of the boat as I fell as I was subsequently covered in bruises on my back, legs and arms. It was two more days before I was back in the gym!
I know there are many that know and believe that Hitch Fit has saved their lives due to the healthy changes they have made and maintained.  It did that for me too but it also literally saved my life!  When I was tested my body was strong and healthy and I lived where many others had not.
If you are in a place of not liking the way you look, your health, lack of fitness the daily fight to face another day do NOT let your age or current situation be a reason to stay where you are. Have courage and make a positive decision for your health and future. Diana will encourage you every step of the way. Every week I checked in she responded and encouraged me, even the week I declared I must have plateaued!
Yes, I get many positive comments and compliments now, even being asked if I had recently had a face lift! Nope, just dropped the weight! But the number on the scale is a very small part of what I gained in this program. Health, fitness and my future are my biggest gains!"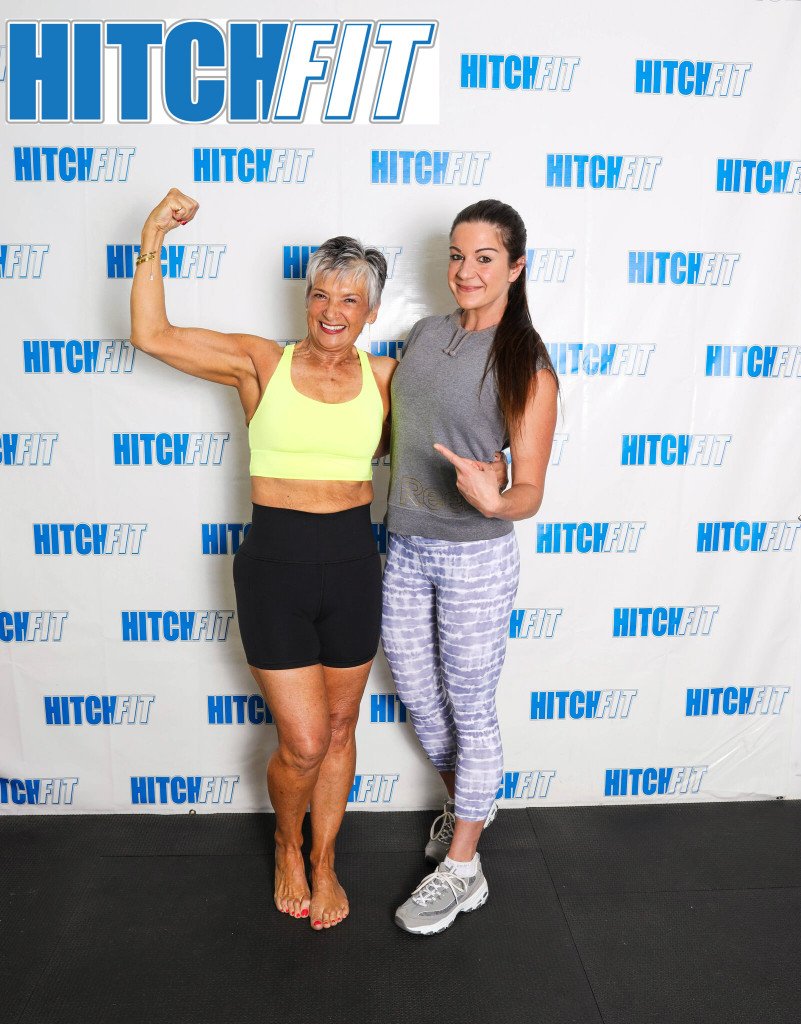 Program Choice: Lose Weight