Medical school awarded grants for enhancing h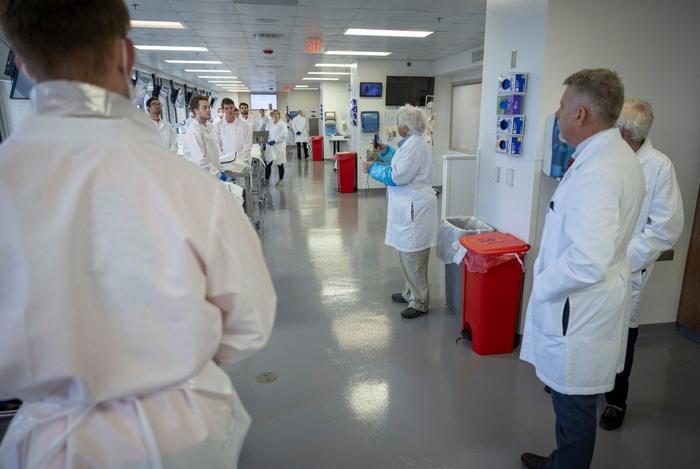 Health systems science is an emerging field that focuses on how care is delivered, how health professionals collaborate, and how the health system can improve patient care and health care delivery. The Virginia Tech Carilion School of Medicine (VTCSOM) is a leader in both its education and its research in health systems science. Both are evident in two recently awarded grants from the American Medical Association to study ways to enhance health systems science education, one at the medical education and one at the graduate medical education, or residency, levels.
Jed Gonzalo, VTCSOM senior associate dean for medical education, serves as principal and co-principal investigator, respectively, on the grants: the Innovation Groundwork Grant and the Reimagining Residency Grant Initiative.
"VTCSOM's seat at the table with the other highly respected programs involved in these two grants is an honor," Gonzalo said. "The work of these grants will help us actualize our medical school's mission and values and accelerate collaborations with Carilion Clinic, Virginia Tech, and other leading U.S. medical schools."    
Sarah Parker serves as chair of VTCSOM's Department of Health Systems and Implementation Science, which has a mission to provide excellent educational experiences and to build scholarship and research in the field.
"These awards represent acknowledgement and support of this multidisciplinary team's work toward building the future of medical education in the United States," she said.
Innovation Groundwork Grant
The overall goal to develop and implement innovative projects that promote systemic change in medical education.
VTCSOM is one of eight medical schools involved in the effort. The other seven are

Carle Illinois College of Medicine
CUNY School of Medicine
Kaiser Permanente Bernard J. Tyson School of Medicine
Keck School of Medicine of the University of Southern California
Indiana University School of Medicine
Uniformed Services University of the Health Sciences
University of Utah School of Medicine

Innovations are to be implemented and evaluated collectively.
$30,000 over two years
Awarded by the America Medical Association's ChangeMedEd consortium
"It's critical to assess competency of our students in health systems science-related skills, but currently we are not routinely assessing this in clinical environments," said Natalie Karp, Director of VTCSOM's Phase 3 in which students prepare to transition to residency, and health systems science (HSS) and interprofessional practice domain co-director. "'The groundwork innovation team hopes to address many of those challenges and limitations through collaborative innovation and elevate the role of HSS competency in successful transition to residency." 
Reimagining Residency Grant Initiative
The overall goal is to evolve systems-based practice, one of core competencies in graduate medical education, through health systems science.
VTCSOM is among a network of five graduate medical education programs that are part of this award. The other four are

Allegheny University of the Health Sciences
Geisinger Commonwealth School of Medicine
Kaiser Permanente Bernard J. Tyson School of Medicine
Penn State College of Medicine

The key objectives are to develop medical residents into "systems citizens" who are prepared to contribute to evolving systems of care and build clinical learning environments to meet that challenge.
---
Disclaimer: AAAS and EurekAlert! are not responsible for the accuracy of news releases posted to EurekAlert! by contributing institutions or for the use of any information through the EurekAlert system.