Michigan's rural CMHs work hard on improving access to mental health resources

Unlike urban areas rich with multiple options and ease of access, Michigan's rural communities have less access to mental health resources.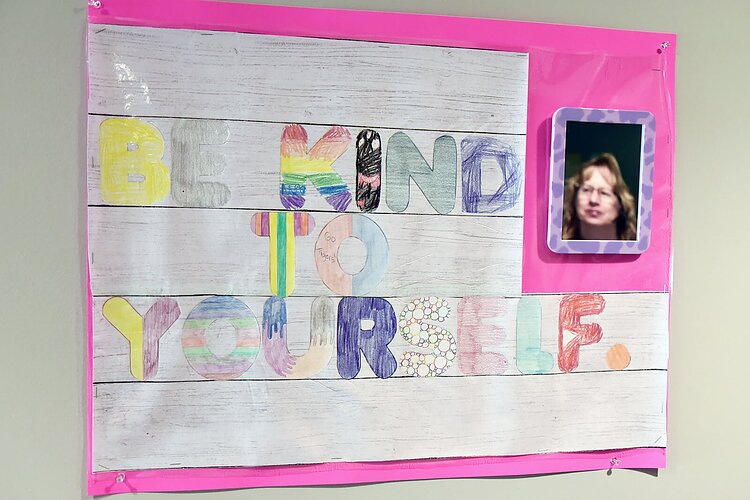 Northern Lakes Community Mental Health Authority Grayling location.
In rural areas, residents often live in what are known as behavioral or medical health care deserts. For some, the choices are slim to none, as their list of nearby health care providers is just one sole provider. Unlike urban areas rich with multiple options and ease of access, for many rural communities, addressing mental health needs is even trickier, consisting of longer drives and private providers with waitlists. 
Northern Lakes Community Mental Health Authority (NLCMHA) chief operations officer Joanie Blamer and Sanilac County Community Mental Health (SCCMH) CEO Wil Morris spoke with MI Mental Health about what their agencies are doing to support Michigan's rural community.
NLCMHA serves adults with serious mental illness, persons with intellectual and developmental disabilities or substance abuse disorders, and children with serious emotional disturbances.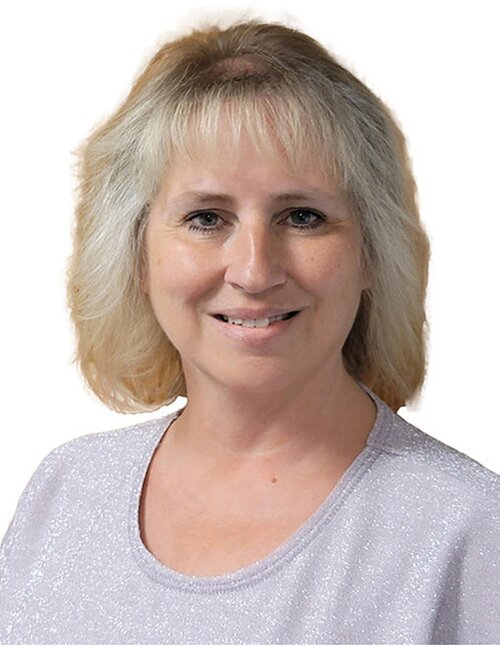 Joanie Blamer, COO Northern Lakes Community Mental Health Authority.
Blamer has been with NLCMHA for 16 years and oversees clinical services for these clients. Blamer believes the most pressing needs within the rural community stem from access barriers. 
"People who live with behavioral health challenges face complex problems every day, such as limited access to care. Private providers may have waitlists, and there are not many service providers outside of the public community mental health system," Blamer says. "In rural communities, we do not have access to health care at the same rates as urban areas and many rural areas can be behavioral and medical health care deserts."
For rural residents, their choices for providers are limited, sometimes with only one Medicaid provider, Blamer notes. Mild conditions often go untreated due to lack of providers. 
"There are little to no services for people who experience a mild-to-moderate behavioral health condition. Accessing the social determinants of health are more challenging also, such as access to food, housing, child care, and other similar critical needs for healthy lives," she says.
Rural communities also don't typically offer lucrative benefit packages or higher wages like urban areas can, adding to an already short-staffed workforce.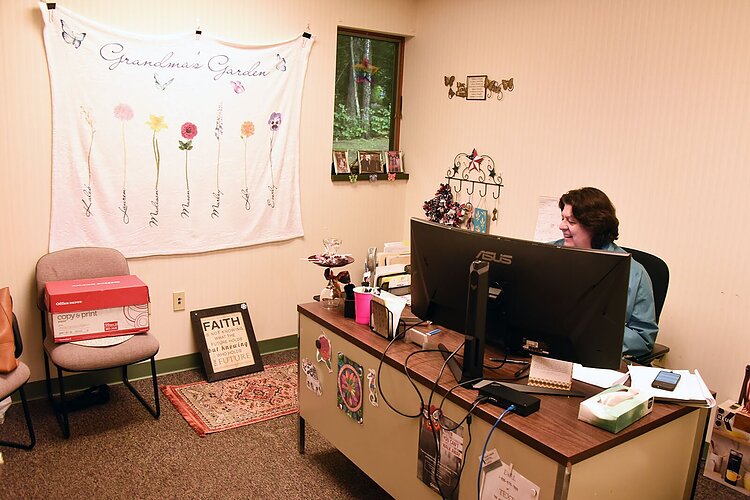 Maria Mills welcomes folks to Northern Lakes Community Mental Health Authority Houghton Lake location.
Needs are the same, opportunities differ
While the needs of rural residents aren't unique in their mental health concerns, the challenges they face while trying to access help do vary from urban communities. Their ability to receive help may be different. 
For some rural residents, the stigma surrounding mental health feels even more suffocating. 
"In general, people may believe that most living in rural areas are impoverished or are less educated, which is not accurate," Blamer says. "In terms of mental health stigma, it's real and influences people's decisions to get treatment or not, especially considering in a rural area, citizens are more likely to know when a person is getting treatment."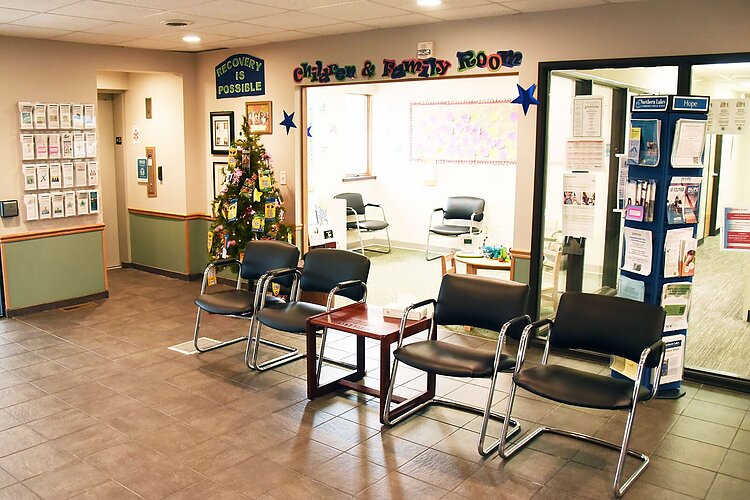 Northern Lakes Community Mental Health Authority lobby at its Grayling location welcomes its rural neighbors.
Blamer hopes that society can help normalize mental health symptoms as a more common occurrence and less debilitating and devastating. She hopes that conversations started during the pandemic regarding awareness, education on behavioral health conditions, and the introduction of telehealth appointments can continue to grow. She would also like to see change when it comes to insurance company policies and benefits, like allowing for reimbursements and helping mitigate transportation and geographic challenges. 
Biggest barriers: transportation, housing, and affordable care
Wil Morris has been with Sanilac County CMH for 13 and a half years. He oversees operations, manages public relations, and collaborates with local and state organizations to improve services and access. 
Morris believes transportation and access to housing and affordable care are the biggest issues in rural communities.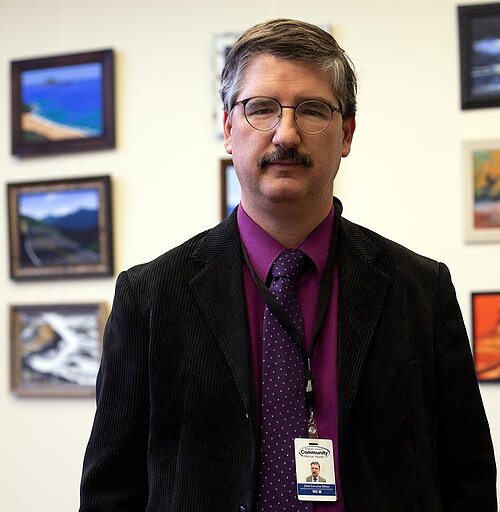 Wil Morris, CEO Sanilac County Community Mental Health."Sanilac County is a large rural county," he says. "Even with public transportation, rural communities have limited access to transportation. We assist with access as we are able and facilitate connections within the community. Housing needs are also scarce, and we are always looking for housing partners to assist with affordable housing. Access to psychiatric hospitalization is also a concern as the closest psychiatric hospital is over an hour from Sandusky, which is also an impediment to care."
With few mental health organizations and even fewer psychiatrists in the local area, Morris says it's easy for Sanilac and other rural areas to fly under the radar. 
"Sometimes we get lost in the conversation, and treatment types and programs are more designed for urban communities," he says. "Some things in rural communities can be provided for in a different way to best meet the community's needs while being fiscally responsible."
In order to address these barriers in rural areas, where phone or internet coverage might be lagging and spotty, agencies have looked at satellite offices. These offices can help alleviate transportation issues and help serve residents closer to where they live. 
"Additionally, we have provided iPads to all local law enforcement agents to add an additional access point in the community," Morris says. "We provide phone and text check-ins and provide telehealth services as appropriate."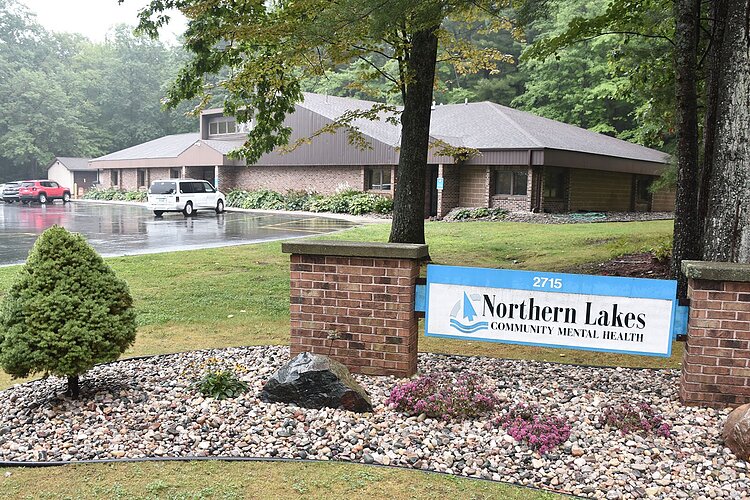 Northern Lakes Community Mental Health Authority Houghton Lake location.
Expanded services, drop-in centers, and after-hours crisis care can help
Although Morris has witnessed a strengthened sense of community and collaborative relationships among providers and organizations, the agency continually looks for ways to work together to address needs. 
"We are working towards becoming a Certified Community Behavioral Health Clinic (CCBHC) demonstration site, which will enhance our ability to provide mental health services to a larger, more diverse section of the community," he says. "This includes citizens with mild symptoms, which will hopefully reduce the mental health services needed in the future as well as reduce the impact of those symptoms on their lives."
Increased crisis services at NLCMHA help address the ever-growing demand for mental health resources, including a walk-in service center and after-hours crisis hotline. Mobile units help provide care for children and adults in their homes, in the community, in jail, at hospitals, and in other locations. 
NLCMHA has two drop-in centers in Traverse City and Houghton Lake, and another one in Grayling, in the works. The agency is also looking at developing a full community crisis center, opioid health home, and expanding other programs focused on mental health treatment. 
"A person does not need to be receiving services from our CMH in order to access these community resources," she says. "NLCMHA has developed partnerships with community providers and other community agencies to help meet the needs of people experiencing a behavioral health condition."
Sarah Spohn is a Lansing native, but every day finds a new, interesting person, place, or thing in towns all over Michigan, leaving her truly smitten with the mitten. She received her degrees in journalism and professional communications and provides coverage for various publications locally, regionally, and nationally — writing stories on small businesses, arts and culture, dining, community, and anything Michigan-made. You can find her in a record shop, a local concert, or eating one too many desserts at a bakery. If by chance, she's not at any of those places, you can contact her at [email protected].
Photos by John Russell.
Wil Morris photo by Liz Fredendall.
Joanie Blamer photo courtesy Northern Lakes Community Mental Health Authority. 
The MI Mental Health series highlights the opportunities that Michigan's children, teens and adults of all ages have to find the mental health help they need, when and where they need it. It is made possible with funding from the Community Mental Health Association of Michigan, Center for Health and Research Transformation, Genesee Health System, Mental Health Foundation of West Michigan, North Country CMH, Northern Lakes CMH Authority, OnPoint, Sanilac County CMH, St. Clair County CMH, Summit Pointe, and Washtenaw County CMH.