Sid Solomon, Inventing Better Smiles
Beverly Hills, CA – Dr. Sid Solomon of the Center for Cosmetic, Implant and Neuromuscular Dentistry has three offices in the Greater Los Angeles area, and is the inventor of Unitox, a specialty syringe designed for use in procedures involving the injection of Botox. He attended UCLA as an undergrad and earned his degree in dentistry from the University of the Pacific School of Dentistry, and has practiced dentistry for almost 30 years.
What's this invention of yours?
"It used to be the case that Botox was injected with syringes designed for insulin, which required doctors to convert the units of measure for insulin to the units of measure for Botox. Since this was both time-consuming and inefficient, I developed Unitox as a solution."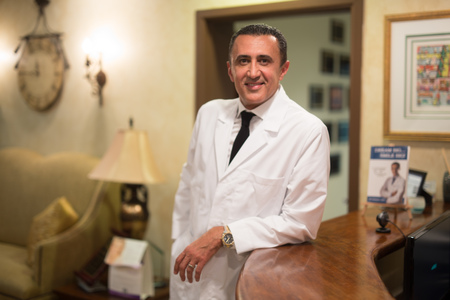 What was the spark that caused this to come about?
"As I was sitting at my desk going through the conversion formulas, I just felt that it would be so much better if I could use that desk time to talk with my patient and get to know them a bit better while explaining in detail the procedure they were about to undergo. The solution was to simply eliminate the need to do the conversions each time, which is how I came up with the concept behind Unitox."
"Patients should feel confident and comfortable while they are undergoing any kind of procedure, so anything that makes it possible for the doctor to spend more time ensuring the patient feels this way is of critical importance."
How involved are you in hiring for your practice?
"So much of our success is the result of the wonderful staff we have assembled over the years as well as fact that we have been able to maintain staff continuity in each one of our offices in Los Angeles. I trust my hiring staff to recruit the very best candidates for any given position, but I also like to be involved during certain aspects of the process in order to provide my input into a hiring decision."
How important is it to keep personally connected to the process of procuring new personnel for your staff?
"I believe it is critically important to remain involved in the hiring process, but I also believe in arriving at a consensus when it comes to bringing on a new team member to fill any given position. This balance in terms of my level of involvement ensures my team members recognize they are truly empowered in the most essential decision-making processes and are responsible for meaningful contributions to our ongoing success."
Do you have any theoretical thoughts about hiring?
"I've always had great success selecting candidates based on how motivated they are to learn and succeed in the position they are seeking, even when they may be lacking the experience of a more traditional candidate."
Best interview question you have asked?
"What brings you here today?"
"It's a great first question to ask a candidate because it usually catches them a bit off-guard given the general assumption that the reason for their presence has already been established. The question cuts right to their motivation for seeking the position and gives me some inclination regarding what kind of employee they might be and what level of commitment I might be able to expect from them."

Any hilarious, or conversely, horrifying interview stories?
"Once my team and I have finished asking our questions, we typically ask if the candidate has any questions they would like to pose to us. Usually these questions are relevant to the position, but one recent candidate asked each of us what we have since referred to as the "vegetable question," which was something along the lines of, 'if you could be any vegetable, which vegetable would you be and why?'"
What has driven you in building such success?
"There are so many people who struggle with the pain associated with TMJ and other dental conditions, so it's just important that I do all that I can to help as many people as possible through my dental practice."