Sleep Treatments Are Popping Up On Spa Menus Everywhere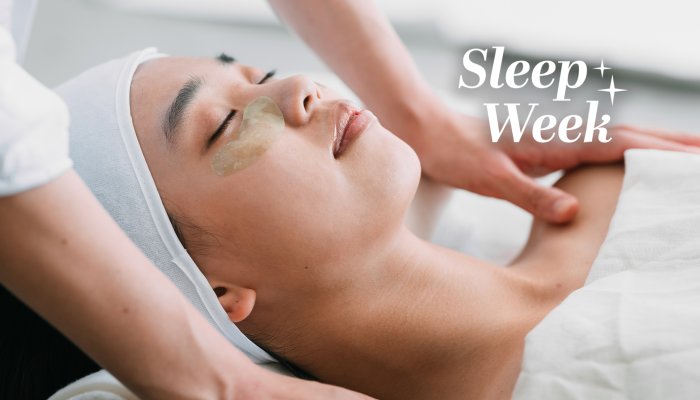 As more community wellness spaces emerge to meet a growing demand for IRL connection, they must offer multiple experiences to pique any interest—so someone interested in sauna bathing can find solace in the same spot as someone looking for a manicure. 
And as folks become more intentional about their rest, it's no surprise that sleep treatments start popping up on those menus. As a result, "sleep tourism" becomes a highly sought-after experience in hospitality.
For instance, find yourself at the Waldorf Astoria Atlanta Buckhead, and you can book an Enchanted Sleep treatment. You'll walk into a comforting, warmed room—chamomile tea in hand—and experience a gentle, intentional lavender oil massage that activates your parasympathetic nervous system. (Research suggests that the aromatic effects of chamomile can help reduce stress4 and that lavender can calm the nervous system5.) 
During the last few moments of your 75-minute session, "your therapist gently awakens you with instructed breathing that signals to the body it is time gradually to adjust your circadian rhythm," explains Taniesha Boursiquot, director of spa and wellness at the Buckhead-based hotel. 
Or, for a completely therapist-free experience, you could opt for the sleep treatment at The Spa by Equinox Hotels in New York: You'll recline on a Quantum Harmonics wave bed—which features an audio program of gentle wave sounds and a vibration massage system that stimulates specific energy centers of the body—and snuggle up under a weighted blanket and eye mask for a 30- or 60-minute "power-nap."
According to Angela Portella, director of spa at The Spa by Equinox Hotels, "The audio and vibrational frequencies make it possible for even the busiest minds to achieve deep levels of relaxation in one session. A 30-minute session is meant to simulate [to] your brain as if you have had three hours of sleep." 
Hop from Hudson Yards over to TriBeCa, and you can experience The Time Traveler Wellness Experience at the Four Seasons Hotel New York Downtown, curated by their in-house resident healer Nicole Hernandez, who's also known as "The Traveling Hypnotist." The program includes a private infrared sauna session, full-body salt exfoliation, and a rhythmic Sleep Serenity Massage to help ease the mind and promote restful sleep. 
The resort's Silicon Valley property offers a similarly themed therapeutic aromatherapy treatment, or you can order off the special "sleep menu" and have various sleep-enhancing items (bath soaks, aromatherapy neck wraps, and the like) delivered straight to your room. 
I could go on and on about the plethora of sleepy-time treatments popping up over the past several months. But at this point, you're probably wondering: Do these remedies actually, well, work? 
Rebecca Robbins, Ph.D., sleep researcher and expert for Oura, certainly sees promise: While relaxing spa services, like massages and facials, can help you manage stress (which ultimately trickles down to better sleep at night), "sleep-related treatments that specifically aim to aid with sleep might be best in the several hours before bed," she says, especially for those suffering from jet lag or sleep difficulties. 
Even if you aren't dealing with a specific sleep concern, the specific treatment may still be a worthwhile investment. We likely don't have to remind you just how important quality sleep is for your overall health, and these can serve as proactive measures to help optimize circadian rhythm for the long haul. 
"Since the pandemic, many of our guests' mindsets have changed, and many have recognized the need for disease prevention rather than waiting to be sick and finding a cure," Sanchez states. "Spas and wellness are as crucial as restaurants and food in this goal." True holistic health, after all, weaves mind, body, and soul.