The Best Pilates Equipment For Home Workouts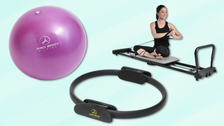 If you've been researching Pilates classes as much as I have, you're familiar with how expensive the fitness activity can be. And if you're also like me, this realization led you to consider doing Pilates at home, only to discover that at-home reformers can cost a a pretty penny. However, even though you may think your chances of nailing this low-intensity workout in the comfort of your living room are slim, there is still hope.
Pilates can be done using a reformer or a mat, and you can cut costs significantly just by using the latter. The main benefit to using a reformer is that it provides the resistance needed to help engage your core muscles without any other accessories.
But since reformers can cost literally thousands of dollars, this is where more accessible and affordable Pilates-adjacent equipment come in handy. To help you get an at-home Pilates experience for less, we rounded up 7 accessories you can get on Amazon, including resistance bands (my favorite!), exercise balls, Pilates rings and even a relatively budget-friendly reformer.
HuffPost may receive a share from purchases made via links on this page. Every item is independently selected by the HuffPost Shopping team. Prices and availability are subject to change.