The Dentistry Scotland Show is back for 2023!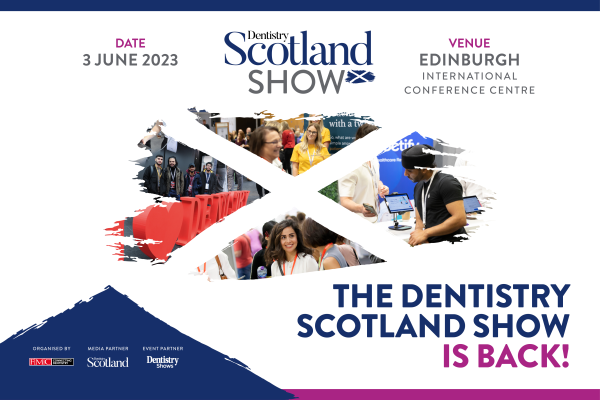 Registrations are open for the Dentistry Scotland Show in Edinburgh this June – find out what the day will have in store. 
The biggest dental event in Scotland is making its way to Edinburgh this June. 
Taking place at Edinburgh International Convention Centre on Saturday 3 June 2023, excitement is building for the Dentistry Scotland Show!
The exhibition will feature an impressive array of CPD-certified power lectures on a variety of topics, including aesthetic dentistry, restorative dentistry, implants and finance. 
It's not one to be missed, with something there for each member of the dental team. And best of all, it's completely free to attend!
You will have the chance to get face-to-face with the latest products, leading brands and biggest innovations that power Scottish dentistry.
The full spectrum of dental companies will be there. So, if you're looking to re-stock, get a better deal, upgrade or simply learn something new, you'll find it at the 2023 Scottish Dentistry Show.
'We're always so excited to bring the Dentistry Scotland Show to Edinburgh!', said Laurie Glover, FMC marketing director. 'It's an absolute highlight of our year thanks to the incredible welcome the Scottish dental community offer us.
'We're back this year with a slate of home-grown talent in our lecture theatres and we're covering the topics that will shape the future of dentistry in Scotland.
'There's more CPD than ever before and we've lined up several speakers to deliver the GDC's recommended topics to help you get those hours completed'.
Dentistry's brightest and best
Delegates will be able to gain CPD from each and every lecture at the show. All you have to do is scan on the day and the certificates will be available in your Dentistry Club account.
Have a look at the lecture line-up so far:
Nishma Sharma – Finding the elusive ICP (inner peace and calm)
Mark Topley – How to create a practice that people don't want to leave, even when the going gets tough
Avijit Banerjee – Advanced minimum intervention restorative dentistry – it's time to build back together!
Sheila Li – Dentistry driven facial aesthetics
Louise Grant – An overview of the current tax issues impacting your dental practice and how best to manage them – sponsored by EQ Chartered Accountants
Mani Bhardwaj – Dentistry: the clinical business
Simon Kid – Dealing with complaints: how to avoid and resolve if they occur – sponsored by DDU
Iain Chapple – WTF: What is the future? A brave new world driving behaviour change in oral healthcare teams – sponsored by Listerine
Benjamin Tighe – WTF: What is the future? And where do I start? – sponsored by Listerine
Joel Mannix – Everything you need to know about buying and selling a dental practice in Scotland – sponsored by Christie & Co
Ian Corbett – Medical emergencies in the dental practice
John Burford – An ABC of the TMJ
Laura Bailey – WTF: What is the future? Know your patient, change the outcome – Sponsored by Listerine
Michael Royden and Kim Campbell – The market for dental practices and the legal aspects of buying and selling
Tripat Mahajan – An update on mouth cancer.
There will be more speakers confirmed closer to the time, so keep checking the website.
Charlotte Knight, head of exhibitions at FMC, said:'Please join us at Edinburgh ICC on Saturday 3 June to hear from 15 expert speakers addressing the future of dentistry in Scotland.
'Discover 100s of brands at our leading exhibition and spend the day networking with the professions brightest and best.'
It's free to attend, but registration is essential! Make sure you save your spot today by visiting dentistry.co.uk/scotland-show
---
Follow Dentistry.co.uk on Instagram to keep up with all the latest dental news and trends.