Tweets About Rihanna's Pregnancy That Show We're Getting Better At This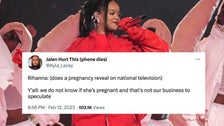 From the moment the lights came on during the Super Bowl halftime performance and she grazed a hand down her belly suggestively, Rihanna teased the answer to a burning question we didn't know we had until that moment: Was she or wasn't she?
As the superstar sang and danced through a dozen of her top hits, she managed to communicate both that yes, she was pregnant, and no, we had no right to ask. Skintight red fabric across her torso, accentuated by a belt just below her stomach, confirmed our suspicions ― while a shape-shifting red coat with a long train suggested that at any moment she might wrap herself up and float away on the cloud she came in on — that she owed us no explanation for her body, her choices.
In a country so obsessed with gazing at famous female abdomens that tabloid magazines have sold issues with features like "Bump Watch," we're all too eager to win the game of knowing before an official announcement is made, of having rights to punch the air and shout, "I knew it!"
Maybe it's her 14 Billboard No. 1 hits, her re-writing of the rules of pregnancy fashion or her having built a billion dollar business, but when it came to this particular baby bump, folks seemed reluctant to jump to conclusions while she was still singing, showing both reverence and respect for the pop icon (her publicist confirmed the pregnancy shortly after the performance).
Here are some of the thoughts people were expressing on Twitter during the performance.