Tzedekah As Solidarity: 6 Indigenous Organizations To Support This Thanksgiving
As many American Jews gather with friends and family today, we remember that Thanksgiving is a day of grieving for millions of Indigenous people across the lands often called the United States. "The National Day of Mourning" is observed today by many Native communities in commemoration and protest of ongoing genocide and erasure. At New Voices Magazine, we encourage our writers and readers to struggle with all layers of diasporic Jewish identity; on Thanksgiving especially, that means acknowledging our role in ongoing colonial projects, living on stolen lands as colonizers. That also means expanding our idea of klal, Jewish community, by supporting Jews who hold both Jewish and Native identities.
Climate justice and a liberated world are not possible without the leadership of Indigenous peoples. As a Jewish people, we are tragically familiar with genocide, historical displacement, and its ongoing repercussions. Indigenous people have historically been erased, displaced, and systemically economically marginalized. And though Native peoples are resilient, Indigenous communities today face high poverty rates, housing injustice, lack of healthcare, and legal neglect and discrimination.
Our sages teach that tzedekah is not charity, but rather a form of enacting justice in the world through money and material support. Much like the land that American Jews live on, the money we give as tzedekah is not ours; rather, we are obligated to give it back to whom it truly belongs. It is through this obligated lens that, as a magazine seeking to stand in solidarity with Native and Indigenous peoples, we encourage our readers and their families to take the time to give tzedekah, money as a form of justice, to Indigenous organizations today.
Here are six different organizations, led by Indigenous nations to donate to this Thanksgiving, and year-round.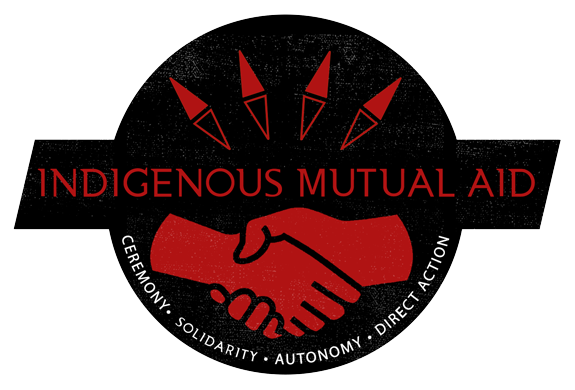 Indigenous Mutual Aid


Indigenous Mutual Aid is an information and support network created to empower autonomous Indigenous relief organizing, originally, in response to COVID-19. "As our communities have a deep history with organizing to support each other in times of crisis, we already have many existing Mutual Aid models to draw from.
 This looks like a small crew coordinating their relatives or friends to chop wood and distribute to elders. It looks like traditional medicine herbal clinics or sexual health supply distribution. It looks like community water hauling efforts or large scale supply runs to ensure elders have enough to make it through harsh winters. Basically any time individuals and groups in our communities have taken direct action (not through politicians or indirect means) and supported others, not for their own self-interests but out of love for their people, this is what we call 'mutual aid.'" Click here to visit their donation page.

Protect Native Elders
Currently serving communities where COVID-19 has hit the hardest, Protect Native Elders "is a diverse, indigenous-founded, intertribal, 100% volunteer charitable organization working to provide rapid relief support to indigenous communities fighting COVID-19." As they write on their website, "Protect Native Elders' distribution began in the Southwestern nations of Navajo, Zuni, and Apache, and we have since expanded our reach to Pacific Northwest groups like the Spokane Tribe of Indians, the Sioux nations in the Dakotas, and Ramapough Lenape in New York and New Jersey." Click here to visit their donation page.
Water Protector Legal Collective
At a time of unprecedented climate crisis, the Water Protector Legal Collective raises funds and provides legal services for activists fighting to keep water access public, clean, and just. "

Born out of the NoDAPL protest movement, our founding mission has been to serve as the on-the-ground legal team for the Indigenous-led resistance to the Dakota Access Pipeline (DAPL) at Standing Rock, North Dakota. 

Since we first came at the request of tribal leadership and set up our office in a tent in Oceti Sakowin, WPLC has been providing legal defense and offense to the Water Protector Movement.

"As an organization, we are guided by our shared Vision – grounded in our belief that Indigenous peoples have a unique and profoundly important role to play to stem the tide of the unfolding climate emergency we are living in. This vision is in part a result of the inspiration we draw from the transformative experiences that some of us glimpsed and others of us lived at the NoDAPL resistance camps at Standing Rock: We envision a world where Indigenous peoples are centered and guiding the world to protect the environment for all." Click here to visit their donation page.

 

Native Justice Coalition
The Native Justice Coalition uses racial justice frameworks to connect Native leaders and communities with the resources they need. With an emphasis on gender justice (including support of two-spirit people), "The Native Justice Coalition was formed in 2016 with the intent of being a platform for healing, social, and racial justice for all Native American people. Our goal is to provide a safe and nurturing platform for Native people based in an anti-oppression framework. We seek to collaborate first and foremost with tribal governments, Native American non-profits, and other Native American led community organizations. Our goal is to bring resources, initiatives, and programming into our tribal communities that are creative, engaging, and transformative." Click here to visit their donation page.

Western Native Voice

"Established in 2011, Western Native Voice (WNV) is a non-profit, non-partisan organization working to increase Native American participation and engagement in voting and self-determination. We work to nurture and empower new native leaders and impact policies affecting Native Americans through community organizing, education, leadership, and advocacy. We are engaged on all seven Montana Indian reservations and engaged in major Montana urban centers because approximately half of Montana's native population lives off the reservation." Click here to visit their donation page.

Learn Whose Stolen Land You're On And Donate To A Local Group
If you don't know the name of the Native Nation whose land you're on, look it up using this webtool, Native Land Digital. Learn more about the history of local Indigenous communities and research what active groups are doing work in your city, state, or area. Keeping support local is always meaningful; for smaller organizations, donations of any amount can go a very long way.
Our sages teach that tzedekah can and should be done at almost all levels of income. However, if you aren't in a position to give, there are many other ways to support Native organizations, leaders, communities, and culture-makers doing great work. You can check out and follow this list of Indigenous influencers and hashtags like #LandBack, learn more about Native activists and activism, deepen your knowledge of local tribal organizations, your connection to histories of colonization and American genocide, and of course, signal boost by sharing this list or other information about Indigenous organizations doing justice work, encouraging your community to donate as well.