Without 'Roe' at Home, Can the US Champion Reproductive Health Globally?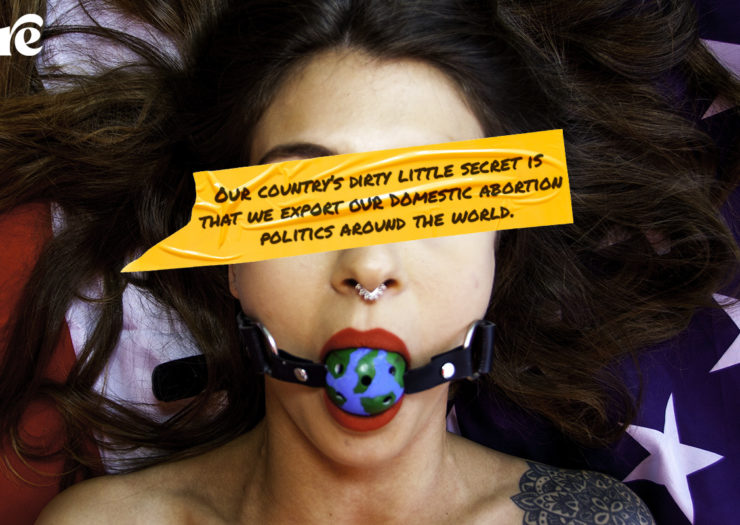 Feminists like myself—and anyone who cares about human rights—are still reeling from last month's leaked draft opinion from the Supreme Court revealing what advocates have long known: We're going to lose our constitutional right to abortion.
But while we all rightfully panic and prepare for a post-Roe world on the domestic front, it's imperative that we not lose sight of the fact that the reverberations of people losing bodily autonomy in the United States will be felt everywhere.
This is not only because the United States is the world's largest donor to global public health, but because the country's dirty little secret is that we export our domestic abortion politics around the world. And we've been doing it for decades.
The Mexico City policy is dubbed the global "gag rule" by advocates because it literally gags overseas nongovernmental organizations that receive U.S. federal funding from speaking about, advocating for, or performing abortion care. This is how the United States plays a huge role in restricting—and even denying—safe abortion access in countless countries in the Global South.
The Dobbs decision is looming, and that's just the beginning.
Follow Rewire News Group on Twitter to stay on top of every breaking moment.
Organizations that do not comply with this U.S. foreign policy risk losing much-needed U.S. financial and technical assistance, such as sonogram machines and computers. Who can afford to lose that kind of support?
The global gag rule is a policy I know well because early in my career as a feminist policy analyst on Capitol Hill, I spent years lobbying to permanently a rule that has become a favorite partisan political football, despite costing real people's lives in countries most Americans have never heard of.
And that's a big problem because with the looming reversal of Roe v. Wade, reproductive health and rights have never been more intertwined. While human rights lawyer and senior fellow at the Aspen Institute Stephanie Musho points out in Al Jazeera that a Supreme Court decision on Roe does not mean a Democratic U.S. government reinstating the policy, "the repercussions would be deleteriously dire with a change of administration to the Republicans."
Musho also writes that overturning Roe would only be the beginning of the attack on our rights both in the United States and globally, stating that it's possible that "an unfavourable ruling by the highest court on American soil could be used to permanently codify the gag rule."
We must not lose sight of the regression of our reproductive freedoms because it's not merely a glimpse into a future where the U.S. is no longer a leader in reproductive rights but also a warning.

The decades-long back and forth between Republicans and Democrats over this policy only reinforces how deeply rooted the politics of health care is in a country that has championed women's health care around the world. I know this firsthand because I grew up in Bangladesh in the 1980s and saw the crucial role the United States played in making nations invest in women's health and rights, and how it lifts up a country's economy.
Restrictions put in place on reproductive health through the gag rule also often end up even preventing abortions that are legal in other countries, forcing pregnant people to turn to unsafe abortion procedures which leave thousands permanently mutilated or worse, according to the United Nations.
It's an important reminder that when we are denied legal access to abortion, it doesn't stop us from getting one. It just prevents pregnant people from accessing safe abortions.
"This is where we have exported our domestic politics in the most callous way," Serra Sippel, chief global advocacy officer for the sexual reproductive health advocacy alliance Fòs Feminista, said in an interview with Prism.
But what truly breaks my heart—and makes me terrified for my two young daughters—is that at a time when many countries are moving forward on reproductive health and rights, the United States is going in the opposite direction. In 2014, Mozambique opened abortion access with exemption, and Ireland, where abortion was long outlawed, repealed its ban in 2018.
In 2020, Argentina legalized abortion. Last year, Mexico's Supreme Court ruled that criminalizing abortion was unconstitutional, and soon after, Colombia decriminalized abortion during the first 24 weeks of pregnancy.
So what's going on with reproductive health care in the world's richest democracy?
While all countries are still trying to get back on their feet in year three of a global pandemic, we must not lose sight of the regression of our reproductive freedoms because it's not merely a glimpse into a future where the United States is no longer a leader in reproductive rights but also a warning.